This delicious salad is adapted from Pioneer Woman's recipe and has secured it's rightful place in our Slew of Summer Salads meal rotation. The blend of color, textures, and flavors makes this salad stand out from the crowd. We also like it's versatility because we can adapt it to meet our needs, better known as, "We have ______ coming out of our ears. How can we use it up?"
This recipe has been added to our A Slew of Summer Salads Carnival. Click the button below for more great salad recipes and to find out how you can join in the fun.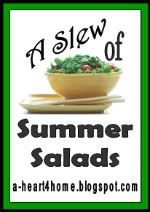 Fresh Asian Noodle Salad

Salad:
Noodles, cooked, drained, and cooled (we used angel hair)
Lettuce (1/2 head of Romaine)
Spinach (1/2 bag)
Bell Peppers, sliced thin (1/2 of a green pepper & 1/2 of a red pepper)
Bean Sprouts, rinsed (3/4 can)
Green Onions, sliced thin (2)
Fresh Cilantro, roughly chopped (3/4 of a bunch)
Fresh Mint, roughly chopped (1/2 of a bunch)

Dressing:
Juice of 1 Lime
8 Tbsp Olive Oil
3 Tbsp Sesame Oil
8 Tbsp Soy Sauce (low sodium)
1/3 cup Brown Sugar
3 Tbsp Fresh Ginger, chopped
2 Cloves Garlic, chopped

Mix all salad ingredients and toss gently. Whisk dressing ingredients together and pour over salad. Mix with tongs or hands and serve.

The dressing can be made ahead of time and will keep in the fridge for up to 3 days.
Looking for a salad recipe or have one to share? Make sure you join in on our A Slew of Summer Salads Blog Carnival HERE.
Related Posts:
Grilled Margarita Chicken Salad
This post contributed to:
Tammy's In-Season Recipe Swap: Lettuce
Tasty Tuesday
Tempt My Tummy Tuesday
What's Cooking Wednesday
Whole Foods for the Holidays Progressive Dinner