My husband & I are trying to eat a main dish salad every day and we need your help. We are looking for healthy, main dish salad recipes because eating healthy works for us. We also have a large garden this year which makes eating fresh salads even more frugal.
Please, post your favorite salad recipe on your blog and link up here so that we, and everyone else, can enjoy plate after plate of fresh salads this summer.
Remember to leave a link to this carnival so everyone can find more healthy salad recipes and join in the fun!


You can also link to a salad recipe you've posted in the past.
To help spread the word about this carnival, grab this button for your blog post or sidebar.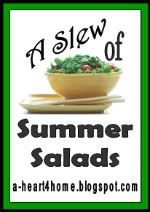 If you don't have a blog, please leave your recipe in the comments section of this post.
This carnival will be open all summer, so please continue to add your tried-and-true favorites as well as new concoctions.
Thanks everyone & happy eating!
Please, leave your link in a comment and I'll add it to this post.
1. Taco Salad ~ Bloom Where You're Planted!
2. Hot Marinated Beef Salad ~ Pam @ Ramblings of a Happy Homemaker
3. Nacho Salad ~ Valencia @ Buildeth Her House
4. Pear and Blue Cheese Salad ~ Lynn @ Queen of the Castle Recipes
5. My Favorite Salad ~ Joyce @ justjoycee
6. Grilled Margarita Chicken Salad ~ Allyson @ A Heart for Home
7. Fresh Asian Noodle Salad ~ Allyson @ A Heart for Home
8. Vegetable Salad ~ mom2fur
9. Pasta Salad ~ Kim
10. Avocado Salad ~ Newlyweds
11. Strawberry Spinach Salad ~ MaRiN
12. Spinach and Strawberry Salad ~ Sarah
13. Mixed Green Salad ~ Kim
14. Southwestern Salad ~ Hoosier Homemade
15. Healthy Salad Dressing Ideas! ~ Laura @ Heavenly Homemakers
16. Chopped Spinach Salad & Tuna On a Shoestring Salad ~ Lisa @ Elbows On Our Table
17. Mideast Pita Salad ~ Michelle
18. Summer Chicken Salad with Fruit ~ TidyMom
19. Frugal & Healthy Homemade Dressings ~ Katie @ Kitchen Stewardship
20. Easy Homemade Croutons ~ Christy @ One Little Word She Knew
21. Using Dandelion Leaves in Salads ~ Christy @ One Little Word She Knew
22. Growing Sprouts for Salads ~ Christy @ One Little Word She Knew
23. Taco Salad ~ Amanda @ Gluten Free Maui
This post contributed to: Tasty Tuesday, Tempt My Tummy Tuesday & What's Cooking Wednesday.